Stage Fifty builds production-ready sound stages as a solution to the global shortage of professional production facilities. They specialise in using a robust and reusable modular aluminium and steel structure, which can be moved and used again, offering practical and financial flexibility.
Pocket Films recently chatted with James Enright, CEO of Stage Fifty, about Winnersh Film Studios.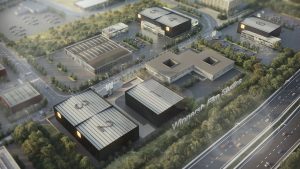 How and when was the studio launched?
Winnersh Film Studios is our second site in the UK. We opened the first two sound stages and workshops in Autumn 2021 to support a Hollywood production that's filming on location close to the studio. We'll have six sound stages when the studio is complete.
With the growth of new studios, how would you describe your USPs?
Stage Fifty designs and operates boutique film studios, and we facilitate productions. Our creative tech hubs provide the very best facilities and services to major film and TV productions in a more intimate environment.
The other side of our business can utilise a backlot, an airfield, or any piece of suitable land to build production-ready sound stages, quickly. We give studios and producers the flexibility to film wherever and whenever it's convenient for them, anywhere in the world.
How did you react to the onset of the COVID pandemic and how has the business pivoted to adapt?
We started our business just before the pandemic, so we adapted quickly to ensure we could keep everyone safe while continuing to build the studios. We developed COVID protocols, and there were testing facilities on-site.
For clients who have never hired a studio before, what advice would you offer them to ease the experience?
Speak to the team at Stage Fifty! Our sound stages are all brand-new and purpose-built. We understand what productions need and go the extra mile to ensure they have everything to ensure filming runs smoothly across all three of our sites.
How are you addressing sustainability at your studios?
Sustainability has been a key driver for us from the start. We've developed new technologies and innovative ways to build greener and more quickly than our competitors. Our stages are robust, high-quality, and can we construct them in four months. 90% of the construction materials are reusable or recycled.
The designs for our third site in the UK, Wycombe Film Studios, include solar roofs for clean energy and recycled soundproofing inside. Green spaces are maximised across the site, and vertical garden walls on the stages will allow local wildlife to flourish while improving the environment for everyone who works there.
What are your plans for the future?
We have studios in Farnborough and Winnersh, and we're developing a third site in High Wycombe. We've built the first stage and are submitting planning permission for the permanent scheme, which will transform a 26-acre site just off the M40 into a sustainable eight-stage boutique studio.
• Link to the Winnersh Film Studios page here