Timeline Television has had a base at Ealing Studios for some time but recently have launched a major new broadcast facility which will be known as the Ealing Broadcast Centre (EBC). Timeline has collaborated with MOOV TV, specialists in broadcast graphics and virtual studios, on the build of the virtual studio.
The state-of-the-art 9700 sq. ft broadcast facility is set over three floors and includes:
• A flexible 2000 sq. ft virtual reality studio with a 4.5m high lighting grid and a fully configured multi-camera VR system using Unreal Engine and Brainstorm InfinitySet
• Mo-Sys StarTracker system enables full 3D VR tracking on all types of cameras
• Predesigned and customisable high-end VR studio sets
• Green Cyc for virtual studios or black Cyc for physical sets
• Dressing rooms /make-up rooms
• Large production offices
• Green rooms
• Spacious full online edit suites
• VOBooths
• Triple-row production control rooms
• Large VT replay room
• Large tier-three data centre
• Global connectivity to all major hubs including BT Tower, NEP Connect, TATA
• Satellite downlink capability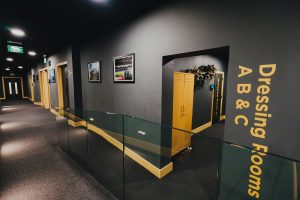 An insightful article on ibc.com titled "How We Built It: Timeline's Ealing Broadcast Centre" details the expansion of the new studios and production facilities near its home base in Ealing, west London, and how they designed the studio to cater for both hard sets and virtual studios:
"Outside broadcast and facilities company Timeline Television is expanding, with new studios and production facilities near its home base in Ealing, west London.
"The Ealing Broadcast Centre is the next phase in Timeline's studio and production gallery offering," according to David Harnett, its Head of Operations.
In the basement there is "a 2000sqft studio, with a 4.5m-high lighting grid, that's supplemented with four dressing rooms, VR room [because it's got a big virtual studio element to it], and a vision and lighting control room". To add to the flexibility, the dressing rooms can also be used for voiceovers.
On the third floor there is a large triple-row gallery, a spacious production office, eight edit suites, a Master Control Room, a VT/replay room, edit support room and two voiceover booths.
The expansion has been driven by demand for large-scale studio shows. "We were turning down quite a lot of work over previous years where we didn't have a large studio facility this side of London," he explains. While Timeline runs BT Sport's technical facilities in the Olympic Park in east London, and have been using those studios for third-party clients, not having anything in its Ealing centre "was causing us some commercial issues".
Timeline is based at Ealing Studios, but it was difficult to get to use those studios because they are so busy doing feature films, and trying to fit in a sports show over a weekend isn't really commercially viable. Timeline needed greater flexibility and to be able to bring a show in on a Thursday, out on a Monday, "and that's where the virtual studio side comes in really nicely.
Hard sets always take quite a lot of time to rig, and while we can absolutely do hard sets, we've designed the studio to do both hard sets and virtual studios, but the offering we feel is better for the market generally is a virtual studio."
Timeline doesn't do virtual graphics so partnered with Moov, which has installed the Mo-Sys StarTracker tracking system, calibrated all the lenses, and put in Unreal Engine and Brainstorm InfinitySet.
"They do some fantastic design and development, and they did the BBC Olympic set and they've done Wimbledon, so they're able to produce some really amazing content and we have built the studio around that," says Harnett.
The studio "will work really nicely" as both a green virtual set or a hard set, "but one of the real significant upsides of the virtual set is you can just turn it on and we'll have it all rigged, ready to go and we can change the sets. We can roll people in and out, and all you've got to do is move the desks in and out."
However, Timeline's investment in the Ealing Broadcast Centre (EBC) isn't just to give it more studio space. "With an increasing number of remote productions coming in, we're finding that we were running out of space rapidly at Ealing Studios [where it has five galleries].
"We've expanded a lot in that site and it's been a fantastic home for us, and we'll still continue to be there in some form for a while, but we needed larger gallery spaces. We needed big production offices and lots of edit suites, and we also wanted it to be contained in one building", as it is now spread across several buildings.
"One of the other major advantages [of the EBC] is we've created a data centre where we can expand up to something like 60 racks in the space that's there." It has significant uninterruptable power supply infrastructure, including generators on the roof. "It really is at the cutting edge of redundancy and backup technology," he adds.
Read David Fox's complete article, on ibc.com, here.