The studio sustainability standard has been created by and for the industry, backed by BAFTA, wearealbert, BFI and Arup. Pocket Films backs this important programme and is talking to some of the studios who are signed up and leading the field. First up – BBC Studioworks.
___________________
Located across sites in Elstree, Glasgow and Television Centre in White City, BBC Studioworks' facilities are home to some of the nation's most watched and loved television shows.
A leader in environmentally friendly production, in spring this year, BBC Studioworks was commended as the highest-ranking studio facilitator in the BAFTA Sustainability Scheme.
We spoke to Mark Lewis, who is the Co-Chair of BBC Studioworks' Sustainability Taskforce to find out more.
Congratulations on your BAFTA accreditation. Can you tell us more details about the award?
At BBC Studioworks, we place our environmental commitments at the heart of everything we do so we were thrilled to receive this accreditation for our Television Centre studio.
The Bafta Studio Sustainability Standard, is open to all TV and film studios to support the measurement and reduction of the environmental impact of their facilities. The initiative has been designed and accredited by the BAFTA-owned and industry-backed organisation albert, which offers tools, training, practical guidance and thought leadership, to all screen professionals. The aim is to help studios identify and act upon opportunities, both on and off screen, which will lead to collective climate action across the sector.
Based on our 2022 submission data, BBC Studioworks topped the scorecard for our Television Centre studio with an overall sustainable rating of 83%. This was compared to an average score of 59% across the participating studios.
Why is sustainability so important for the television production industry?
Sustainability is a major topic and point of concern across all industries. It is essential for BBC Studioworks to have a holistic approach for our clients and partners. It also contributes to the long-term wellbeing of our team members and local communities.
We recognise our position in the television industry is to engage and influence, as well as use our platform for good. Therefore, we are creating an organisation where sustainability adds credibility not just to our business, but to that of our entire chain from our suppliers to our audiences.
For our partners it means that we're helping them to achieve their ambitions. For us, it's about putting the focus on what's right and using our position to drive a better agenda for generations to come.
How do you come up with the BBC Studioworks sustainability strategy?
We've set up a Sustainability Taskforce, which is made up of team members across the organisation with a passion for the environment, and those who are experts in the field. Our goal (which is aligned with the BBC's) is to achieve a net zero by 2030.
We liaise with stakeholders internally and our clients like ITV, Channel 4, and BBC Studios to ensure sustainable practices are being implemented across the portfolio of shows and projects we work on.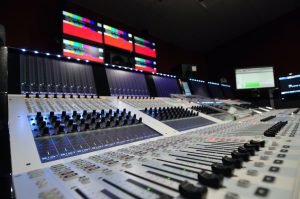 What sustainability initiatives has BBC Studioworks undertaken so far?
We have switched to 100% renewable energy across all the BBC Studioworks facilities and worked closely with ITV at our Television Centre to kit out two of our studios (TC2 and TC3) with LED lighting.
We have started our transfer to electric vehicles. We currently have two electric vans at our Elstree Studio with the aim of the whole fleet being converted by 2024.
We've introduced policies on assessing and approving suppliers, achieved Zero-Waste Landfill certifications since 2020, and introduced a proactive approach to the use of compliant materials.
We recently went to tender for the catering at our Television Centre studio and one of the key criteria was sustainability. We now have a 75% plant-based catering here. It is going to be included in our criteria for our future cleaning tender too.
How do you engage BBC Studioworks staff to get involved with your sustainability projects?
We aim to educate our team with a free BAFTA Sustainable Production Training session and regularly keep everyone updated with our Taskforce's progress during all team meetings.
By educating our team, we aim to empower them to run their own sustainability projects. For example, our Facilities Manager at Television Centre oversees a green travel plan to encourage staff to cycle to work. The plan aims to encourage more active, healthy and environmentally friendly decisions when making travel and transport choices. It also seeks to assist the surrounding communities, local authorities and the global impact by reducing traffic congestion and the associated harmful effects on the environment from single car usage and higher carbon-emitting modes of travel.
How does the BBC Studioworks sustainability strategy impact the local community?
One of our key passions is community, so we run local engagement programmes, which involve training initiatives and working with local schools to create pathways into the industry to build a local talent pool. Some of these have included Castletown Arts, a community group based in White City with strong links with the creative arts, and LMP action who have excellent links with local schools. We also work with and Hammersmith and Fulham council (this covers the borough that our Television Centre is based in). We interact with their Secondary Adviser and 14-25 Development lead team. These links have provided multiple pathways to enable students to get a taste of being in our environment is like.
Additionally, members of our Sustainability Taskforce are part of the Hammersmith and Fulham Climate Alliance. They meet bi-monthly to learn about and tackle the climate emergency.
We also strongly encourage employing a local workforce, particularly at our brand-new studio, Kelvin Hall in Glasgow.
As you've mentioned Kelvin Hall, was it important to have a sustainable focus at your new studio?
Sustainability was a key driver in the studio design. As part of a wider redevelopment initiative at the site, we repurposed a previously derelict section of a historically important building for Scotland. The studio was designed without dimmers to support LED and low energy lighting technology. The reduced heat generated by the low energy lighting enables the use of air-source heat pump technology for heating and cooling, and the ventilation plant has class-leading efficiency using heat recovery systems. The studio will reduce the carbon footprint of local TV production and as mentioned previously, fuel the growth of the sector by boosting local employment.
Do you have any further sustainability ideas or initiatives for the future?
We plan to move to compostable catering supplies to simplify the disposal of catering waste, compostables are plant-based packaging products capable of disintegrating in under 12 weeks in the right composting conditions. They break down completely into non-toxic components (water, carbon dioxide, and biomass) that will not harm the environment. Food residue is one reason it can be tricky to recycle single-use plastics; the food is a contaminant that hinders the recycling. We are also exploring the installation of solar panels on our studio roofs to provide us with an internal source of renewable power and will be undertaking a feasibility study this year.
To find out more about BBC Studioworks and their facilities, visit their website or alternatively contact one of their team.
For a full specification of the BAFTA Studio Sustainability Standard, click here.