RecodeXR, a cutting-edge Manchester-based studio that offers a full-service Virtual Production facility, has been gathering a lot of attention with its award-winning VFX, VR, AR and XR developments. Pocket Films talked with Sue McHugh, Virtual Production Manager, about the genesis and development of the studio.
RecodeXR is a relatively new studio, started during the pandemic lockdown. Can you tell me how it all came about?
"RecodeXR is a collaboration between Carbon Digital VFX agency and SBS Audio Visual event specialists. Carbon have worked in the industry for over 23 years now and in recent years we've witnessed the rise of the games engine. In fact, a few years ago, we moved all of our VFX production work from pre-rendered methods to using the Unreal engine. We made this move originally, in order for us to deliver some films to a client (Standard Chartered) which depicted multiple worldwide locations, the films would've been too heavy for us to handle using traditional 3D pre-rendered methods and the power of the games engines really came to the fore and incredibly powerful for us to use.
At the same time, we were following the emergence of Virtual Production in the film industry and could see how our unique spot spanning games production, VFX and live-action shoots would enable us to jump into this exciting technology. My partner Paul and I started our careers in the games industry working at Sony Psygnosis, Rage and Acclaim, it was exciting to see games engine technology come full circle into our production pipeline.
Then .. along came the lockdown in 2020! We knew events agencies with LED screens would be sat immobilised and empty, so we immediately hooked up with a local forward-thinking company, SBS Audio Visual, to develop our offering.
We've now spent 18 months developing our service together and along with our content production combined with their event and studio operations expertise, Recode was born.
With the current growth in the studio sector, what would you say are the studio's USPs?
Absolutely the ability to offer the full production pipeline. A huge part of the success of any virtual production is the ability to produce the real-time content in the correct and most optimal way. Thankfully our years of developing 3D content to very limiting restrictions for a high-performance output in a game has meant delivering for the VP volume has been quite natural for us. It means that our clients don't need to coordinate a content production agency, with a VP space, book in a production crew capable to operate in the VP space and then take the output to post-production and grade. This can all be done in-house at Recode and it means fewer issues in the pipeline, reduced timeframes and of course costs.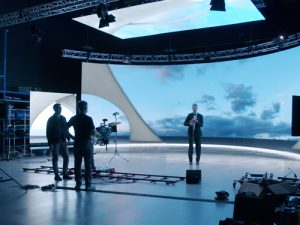 Your team have experience both with green screen virtual production and LED screen virtual production. How do you compare the two?
Honestly, you just can't compare the two, it now just seems crazy to us to shoot against green. Of course, the VP volume can be set to green at any time, (a perfect, flat lit green!) .. and we do use this from time to time if we need to isolate part of the action from the backdrop for possible changes later on. Having worked with green screen for many years, we find ourselves repeatedly counting our lucky stars when we are shooting content such as reflective cars, cutlery, glasses or water etc which can all be hugely problematic when shot on greenscreen. We recently shot a candlelit table scene for a TVC and it was very satisfying to see the virtual backdrop showing through and being refracted through water glasses and the candle flames themselves. I often find myself mentally totting up the hours in post the process has saved us in roto work!
I'd say the term 'fix it in post' has never been used in the Virtual Production studio! There needs to be a little bit of a shift in the approach to the production pipeline, with the majority of the work being done upfront. However, this means that not only can the client pretty much see the vision ahead of shoot day, it means that by the time shoot day arrives, we are pretty much signed off on the look and feel of the shots. This has meant that directors have much more freedom and time on set to do what they do best and capture the exact action they are after. We've found ourselves time and again, having spare time at the end of shoot day to grab some extra shots and double-check the visuals we've got. This is almost unheard of on-location shoots or on green screen work.
Finally, how do you see the studio work developing over the next few years?
The biggest and most exciting advances will no doubt come with the development of game engines. We are already working with Unreal Engine 5, which is just incredible. For us, it is also incredibly exciting to see Directors and DOPs embracing VP technology as they start to envisage the power it can bring to their craft. I can see Virtual Production work developing alongside its adoption by forward-thinking Directors and DOPs looking for new and exciting possibilities for their work.
We've also seen quite a shift to VP from companies and brands who are looking to shoot in a more sustainable way and I see this only increasing in importance. Shooting in a VP volume means no travelling huge crews and their equipment across the world to numerous locations and the escape from inclement weather and inconsistent lighting conditions means that production schedules can be optimised and much easier to quantify than location shoots out in the wild!
Thank you, Sue, and we hope you keep as busy as you sound.